Prepare to become a Tourism Professional!
The Tourism Management option is for students who see themselves working in one of the most dynamic, interesting, and fastest-growing industries in the world. Students in this option will prepare to be professionals who provide and manage tourism opportunities and experiences in such diverse settings as resorts, meeting planning, convention and visitor bureaus, tour operations, and recreation businesses.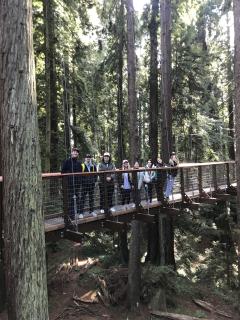 Program Description
In the program, students focus on understanding tourism as both a community and economic development tool. Using real examples, we investigate how communities and destinations can use tourism to improve the quality of life for residents, conserve the natural environment, and promote balanced economic development all while satisfying and meeting the expectations of visitors.
Students in the program acquire the professional skills needed to be successful through
Coursework that considers local, regional, and global perspectives in the study of Tourism
Foundational and Core courses in Recreation Administration and Business
Site visits and opportunities to interact with professionals in the field
Opportunities to participate in hands-on projects – for example, see https://digitalcommons.humboldt.edu/rectourism/
Required Internship and other professional development opportunities
Local connections, Global Opportunity
The Tourism Management emphasis prepares students for professional positions in a variety of settings in California, nationally, and abroad. California is one of the largest tourism destinations in the world, and our students benefit from this by being able to make connections during their time in the program that assists with their entire careers.
Depending on your interest, work can be sought in the public, nonprofit, or private/commercial sectors. A Tourism Management graduate may find themselves on a cruise ship in Alaska, at an ecotourism lodge in Costa Rica, a bed and breakfast on the California Coast, a cultural or arts organization, in non-profit or public agencies that support tourism development, and in many places between.
For more information contact Dr. Ara Pachmayer at aap583@humboldt.edu
To see examples of past projects tourism students have worked on, check out https://digitalcommons.humboldt.edu/rectourism/
For a description of the courses see the Humboldt catalog or check the current selection of classes on the Class Schedule page.