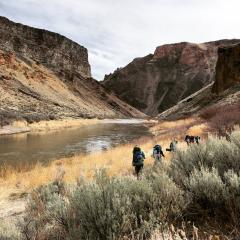 Outdoor Leadership is for those students who see themselves working outside and providing opportunities to grow, play and safely experience the great outdoors. Students in this option will prepare to be professionals in three stages:
Developing or strengthening professional backcountry wilderness living skills in summer and winter environments according to the industry standards
Learning how to develop, instruct, and lead outdoor adventure activities and programs
Learning how to manage outdoor recreation and education agencies
Students have the opportunity to build a solid trip log through the Outdoor Assistantship, and complete the Outdoor Leader Certificate from the Wilderness Education Association. To meet industry standards, students are encouraged to complete a Wilderness First Responder or Wilderness First Aid through Center Activities. For students interested in developing their outdoor leadership skills and gaining experience leading, we offer the Outdoor Assistantship in collaboration with Center Activities. Applications are once a semester and more information can be found here: https://outdoorassistantship.wordpress.com/
Graduates with the Outdoor Leadership emphasis may seek careers in several areas including: outdoor leadership organizations like Outward Bound or the National Outdoor Leadership School; they may work as outdoor recreation professional for municipal, state, or federal agencies; they may chose to work in the private sector for guiding companies such as rafting or mountaineering; they may choose to instruct for adventure education organizations or challenge courses, and some graduates choose to start their own adventure based business.
For a description of the courses see the Loading... or check the current selection of classes on the Class Schedule page.
For more information, contact Dr. Geneviève Marchand, Genevieve.marchand@humboldt.edu